Participation statement
in "Magic" B. C.:
e-mail: magic@hol.gr
Tel.: +30 6936918238
SCHEDULE

The "Magic" Basketball Camp takes place in the summertime.
In 2017 it is scheduled to take place: June 19 – 24 ("week 1"), June 26 – July 1 ("week 2"), and July 2 – 9 ("week 3").

In 2017, MAGIC BASKETBALL CAMP will take place in cooperation with PAOK JUNIOR BASKETBALL PROGRAM, thus running together the PAOK MAGIC SUMMER CAMP 2017!!!!!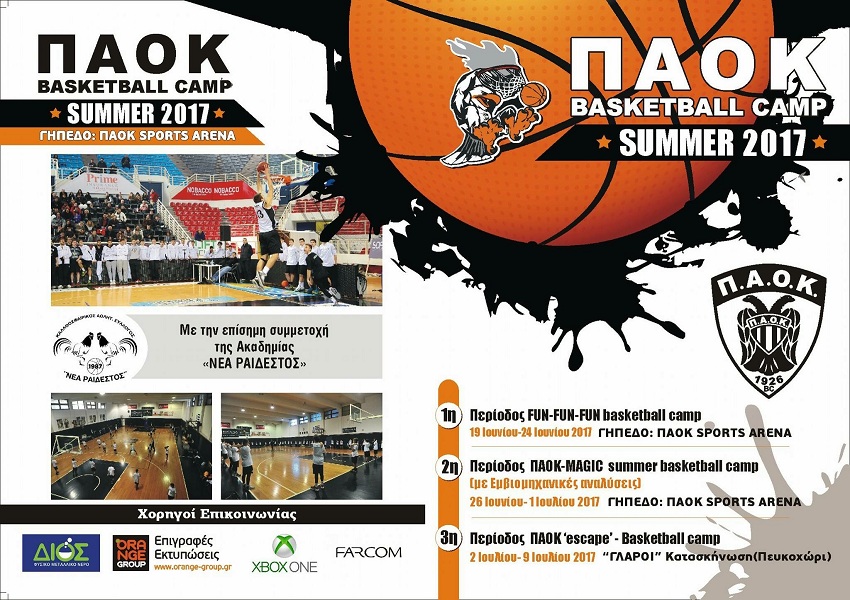 FUN-FUN-FUN CAMP
PAOK-MAGIC CAMP
'ESCAPE' CAMP
COURT: PAOK SPORTS ARENA
COURT: PAOK SPORTS ARENA
"GLARI" CAMPING SITE
(PEFKOCHORI, THESSALONIKI)
Week 1, from Monday 6/19
until Saturday 6/24
Week 2, from Monday 6/26
until Saturday 7/1
Week 3, from Sunday 7/2
until noon of Sunday 7/9
Each year, besides students from Thessaloniki, the camp hosts students from all over Greece, such as from Athens, Veria, Larissa, Edessa, Katerini, Kozani, ancient Olympia, Serres, Chalcidice, and more (see below: "Information for the Accomodation of the Intern Athletes"). We also host students from outside of Greece. Our coaches communicate with non-Greek students in English.
Weekly Camp Hours:
The training hours are: 9:00 a.m. - 16:00.
INFORMATION FOR THE ACCOMMODATION OF THE INTERN ATHLETES

The location where the interns are accommodated is the dormitory of the American Farming School, located in a fantastic environment, in which there is security administered by professionals 24 hours a day, both at the entrance, and during the night in the dorms.


Click on the sign for photos of
the American Farming School

Also:

The rooms where the interns are accommodated are 2-bed rooms, and for this reason there will be a priority list.

The interns have the following meals: breakfast, lunch, and dinner.

Coaches are assigned to stay in the accommodation location, for the smooth and secure living of the interns.

The students-athletes who will be interns may arrive in the city of Thessaloniki in the afternoon of the Sunday prior to the camp week, at which time they will be lodged in their rooms.

The week is designed for students who are new to the game, and for those who want to work on the basic skills of basketball through practicing games. Athletes participate in an intensive program, working hard in the mornings and during the teaching and the games in the afternoons. There is a great variety and different approaches in the teaching of basic skills and offensive moves. Learning the basics depends on the skill and basketball background of the athlete. The coaches will be there to teach them what to do, when to do it, and why they must do it. Children love this part of the training; it is the best time for them to work on their moves and add knowledge and experience.

2nd week: June 26 – July 1

The week is designed for students who are new to the game, and for those who want to work on the basic skills of basketball through practicing games. Athletes participate in an intensive program, working hard in the mornings and during the teaching and the games in the afternoons. There is a great variety and different approaches in the teaching of basic skills and offensive moves. Learning the basics depends on the skill and basketball background of the athlete. The coaches will be there to teach them what to do, when to do it, and why they must do it. Children love this part of the training; it is the best time for them to work on their moves and add knowledge and experience.

The aim is to improve the fundamental defensive and offensive skills in an environment of finely controlled games.

The athletes have the opportunity to play daily in tournaments of 3 on 3.

The performance of individuals is evaluated with the help of a specially designed computer program throughout the week.

Teams change every day, and players collect point in order to compete for awards based on the results of the games, at the end of the week.

Our "Magic Block" exercises and the offensive combinations that are performed during this week aim at maximizing the individual as well as team performance.

INFORMATION

"Magic" B. C.,
Tel.: +30 6936918238
e-mail: magic@hol.gr